Hikari Sogoh Law Offices, a Legal Professional Corporation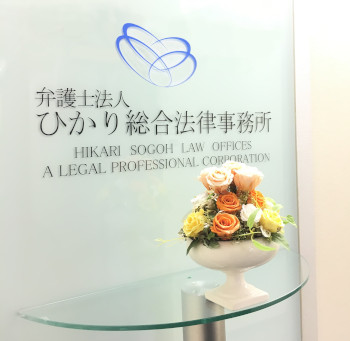 Our corporation was founded by Hirotaka Fujiwara, its representative member. The purpose of its incorporation is to secure the continuity of Hirotaka Fujiwara's law practice and cultivation of successors.

Legal work undertaken by our corporation will be handed by our corporation (its representative, Hirotaka Fujiwara), and by closely working together with Hikari Sogoh Law Offices and its attorneys, Senior Counsel Takashi Saito, Associate, Nozomi Miura, Hiroo Uematsu,Yuusuke Yoshiwara, and Naoki Kurokawa. In addition, Partner Masakazu Ueda, Yasunari Yamada, Yoichiro Itakura, Satoshi Shimizu, Shohei Takeda, and Hiroki Katsurayama work together with us on our bases where their specialty is required. With our corporation at its core, these multiple groups of lawyers are prepared to handle a wide range of cases as the Fujiwara team. We are also able to work together with other partners of Hikari Sogoh Law Offices, depending on the case matter.
We handle patent disputes and other highly specialized suits that handle scientific and technical issues, as well as M&A cases such as purchase of hotels, representative suits against representatives, and disputes over ownership of small and mid-sized companies, and other corporate law cases swiftly with our flexible team composition. We also form an international team centered around our corporation and Associate James Dougherty, providing strong support for overseas expansion, supporting review and execution of licensing, NDA and other contract with overseas, and other support for international businesses. We have also formed a Cambodia corporation in January 16, 2017, with Hirotaka Fujiwara as its director.
1. Overseas expansion of small and medium sized businesses
2. M&A and handing over of small and medium sized businesses
3. Support for investment and expansion into Cambodia.
4. Support for Solving Cybercrime
5. One-Stop Service with MBA Lawyers